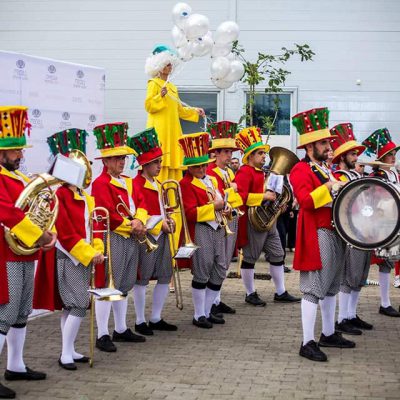 Georgian Marching Band
Head of band Georgi Vartanov
Biography
Drum School & Georgian Marching Band is 6 years old, we take active part in all government and entertainment events throughout Georgia. The orchestra consists of 60 people- . 30 drummers and 30 brass and we constantly fill our lineup with new musicians. All drummers are students of our school. And brass are from musicians who play in the opera house, military and police orchestra as well as music school students and students of the Conservatory. We are constantly working on the development of our orchestra, we give Gala solo concerts and raise a young generation of musicians
Supporting various kinds of events: presentations, corporate evenings, anniversaries, weddings, etc.
Wide choice of program and repertoire: from classics to modern hits
Flexible lineup of the orchestra, depending on the wishes and needs of the client, as well as on the format of the event: marching drummers, brass band, fire show, animators, fairy-tale characters, acrobats, theater and circus artists
Non-standard and solemn atmosphere! Each show is unique, both: in terms of repertoire and visually
Georgian Marching Band — we create best moments!
Learning to play any kind of drums and percussion — by ear and by sheet music
If you start to study with us,
Every weekend — «Drum Therapy»for both: children and adults! You can buy an admission ticket that allows you to join us and play drums/percussion, take part in jam-sessions and have fun!
We have a comfortable and high quality rehearsal space for you and your band!